Introduction-
Tips to crack UPSC -You need to know these 3 things before starting UPSC/PCS preparation:
Congratulations! You made it here. It means you are at least thinking of preparing for Civil Services Exam. But do not start just yet! Often aspirants just dive into the preparation without even understanding the nuances of the exam.
It is well known that UPSC exam requires lot of hard work, patience, sincerity and a smart strategy.But how much is just not understood. Consider the graph below:-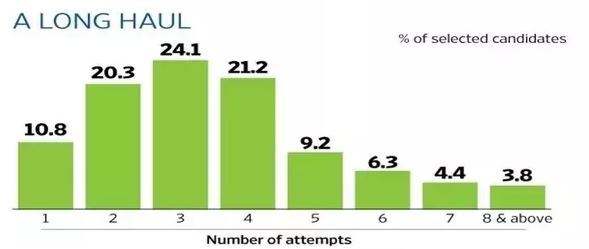 Only about 11% of students who make it to final selection do it in their first attempt.  You could be one of these selected students too. But first, you need to be clear about certain things. AS this exam is likely to demand your full focus for 2-3 years, you need to have commitment as well as clarity about the following three things:-
Step 1: Reason why you chose this exam
Tips to crack UPSC #1– UPSC is unlike any other exam in the world. It does not require a brilliant student to crack it. In fact, majority of the aspirants who clear the exam have an average IQ.  More than IQ, this exam requires persistence and Arjuna like focus. The secret to Arjuna's success was that he was able to empty his mind and think only of the task at hand.That focus is the key to success everywhere.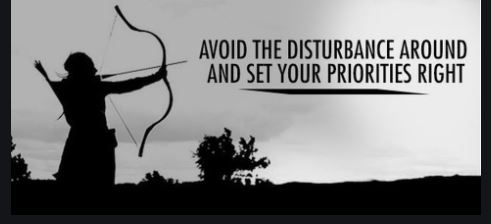 You should be very clear why you chose this path/exam. The reason for choosing should not be superficial for example-
'Pados ke Sharma ji ki beti nikal gayi'à Sharma ji's daughter had been very consistent. She was burning the midnight oil when rest of her friends were busy partying. Aspirants often underestimate the efforts required and are then overwhelmed by the task at hand. Sit with a mentor/experienced candidate and try to assess the effort required.
To prove your worth to your girlfriend, impress the bride's father and marry heràhappy ending àDevdas died for Paro but never got her love. This is actually the reason many boys come for preparation. If this is your reason then you are living in a fool's paradise. Everyone is not lucky as luck as Satyendra as depicted in'Shaadi Mein Zaroor Aana'
To prove to your relatives and friends your worth.
You need a more concrete reasons than likes of above. After some time, the reasons above will fail to inspire you and you will feel you have wasted your time and effort. The reasons why you chose to become IAS should be substantive and be very clear in your head. The reasons could be:
Want to make an impact on society
Prestige that the job brings along
You prefer power over money (Though you may earn money as well in an illegitimate way)
Why do you need a good reason?
Tips to crack UPSC –> UPSC preparation is like a sine wave. You will have your 'UPs' and 'DOWNs'.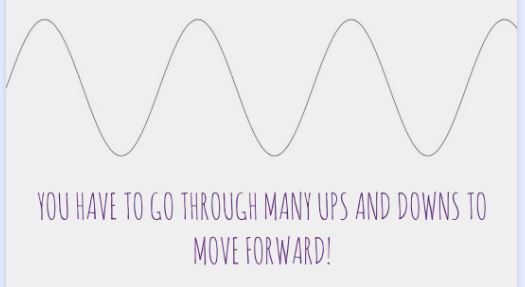 During the 'UPs' you will be all the energy and positive motivation to crack the exam. You will sit for long hours and will be highly focused. You will be highly efficient and very productive. Sky is the limit for you. You will dream of red beacons and your entourage. The world is your oyster and you are the pearl. In a nutshell you will be supremely confident.
But next comes the DOWN. You will be full of self doubt and question yourself – 'Will I be able to do it?', 'Did I made the wrong choice?' etc. You won't be able to concentrate and feel depressed. Your productivity and confidence will tank.
During these DOWN moments you need to remind yourself of the very reason why you are here. Don't be too harsh on yourself. Everyone goes through these phases. Take time out for yourself. The difference between a serious aspirant and a non-serious aspirant is that he/she will reduce the time duration of these DOWN phases and try to quickly move UP. The reason why you chose this path will help you moving out of this phase.
Step 2: Do a SWOT analysis.
Tips to crack UPSC  #2– Do SWOT analyses of you, keeping in mind that you are preparing for a competitive examination. This exercise should be done in black and white i.e use a pen and paper. Not in your head but jot it down.
What is SWOT?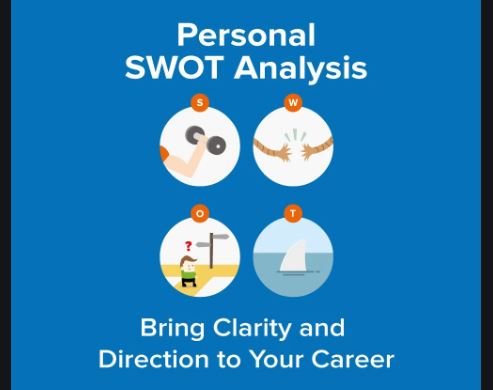 As humans we have our confirmatory biases and blind spots. We particularly are ignorant about our negative traits which include our weakness and threats. The reason being our weakness and threats make us feel vulnerable and anxious. So we as humans, have a tendency to focus on our strengths and opportunities. But life is not all rainbows and unicorns. Everyone faces some hurdle, big or small, at some point of life and those who are aware of their weakness & threats are able to overcome the hurdles more effectively. In order to become a better version of ourselves, one should be aware of all his/her traits. SWOT analysis helps us becoming that better person in every aspect of our lives.
SWOT stands for Strengths, Weaknesses, Opportunities, and Threats.
Strengths and weaknesses are internal to you —things that you have some control over and can change.
Opportunities and threats are external—things that are going on outside you. You can take advantage of opportunities and protect against threats, but you can't change them.
Example
To make things simpler and comprehendible, I would explain with the help of an example.
Meena is 24 year old unmarried middle class girl. She has completed her post graduation and has been an average student throughout her school and college days. She is an extrovert and has lot of friends/acquaintances.  She does not have any work experience and is now planning to appear for civil services.
Internal- can be controlled:
S–> Strength –>good memoryretention, Disciplined, Can sit for long hours at one stretch. Etc.
W–> Weakness –> get distracted easily/less attention span, Poor health etc.
External – Minimum control:
O–> Opportunities –> Very supportive parents, financially sound background etc
T–> Threat –> friends who pressurize for parties, pressure for marriage
Meena's SWOT analyses:
For some of us it might end successfully in the first attempt but empirical evidence proves otherwise. One can see that maximum students get selected in their third attempt and the average age is 26.9. Unlike other exams, UPSC is a long journey therefore; one needs a lot of patience and good sound strategy. As seen in the graph below, UPSC is truly a veteran's game.
Meena should focus on her weakness and her threats as they would only create distraction and anxiety during the course of her preparation.
Working on Meena's Weakness:
Get distracted easily/less attention span: While studying, Meena should switch off her mobile or keep it in silent mode. Stay away from the TV room while studying. She may also use noise reduction ear foams to cancel all the outside noise.
Poor health: Start some physical exercise like yoga, running etc. , take care of her diet and sleeping habits.
Working on Meena threats:
Friends: Meena's friend might create distraction for her unknowingly or even deliberately. Such kind of distractions may lead to FOMO or disrupt the time table. In such a case Meena should either weed out the friends who create deliberate distraction or let her friends know the time when she will be available as per her time table. Meena should priorities her preparation over all the other things in her life until she clears the exam.
Age: Meena is 24 years old with middle class background. In typical Indian society girls a social pressure is created to get married in mid twenties. Even if her parents are supportive the society would put pressure for marriage. This constant interference creates distraction and loss of valuable time. Meena should request/ask her parents for time to prepare (may be next 12 months) and not bring any kind of marriage news during the time of preparation.
Now you know how to do a personal SWOT analyses. Knowing what your strengths, weaknesses, opportunities and threats are puts you in a powerful position for action. The SWOT analysis is not action in itself, but it's a useful tool that helps you set goals, create a detailed career plan and act on it.
Step 3: Get a hobby
Tips to crack UPSC  #3– According to Wikipedia: 'A hobby is a regular activity done for enjoyment, typically during one's leisure time, not professionally and not for pay.'
A person without hobby is like a wandering soul. He will struggle for peace. After a day of work, one looks for some contentment. Hobby is his own space. It is that place in world where one can be self without judgment and shirk off his worries & fatigue.
Hobbies can broadly be of two types :
Assimilative – Activities where you receive. Examples: reading, listening music, watching movies, video gaming, travelling, learning languages, yoga. These activities soothe/relax you.
Creative – Activities where you give. Examples : Writing, cooking, sports, playing music, singing, dancing, painting, photography, sketching, sculpting, volunteering, public speaking, gardening, acting. These activities exhilarate/excite you.
The categories are just indicative to highlight that both kind have their role to play. The assimilative activities settle the storm inside you and act as fodder in the pursuit of creation. The creative activities give a different kind of satisfaction. It turns your negative energy into positive. You develop something of your own like procreating a baby.
Hobbies will make you focused & innovative. It will rejuvenate you after a gruesome study schedule. It will also help enhance your CV and help in initiating conversation. Hobbies can also help you in the third stage of the preparation – personality interview.
Conclusion
These are the three things you need to do before you even think of preparation. Do these three intelligently and your chances increase exponentially. Do not do these and it is likely that you will lose steam midway. We like to think of ourselves as superhuman. Truth is, we all are prone to mistakes and weaknesses. It is only by self-improvement, you can be better than than the other serious aspirants. Hope these 3 tips to crack UPSC exam will make your UPSC journey more comfortable and productive.
---
Contact us for:-
IAS coaching in Dehradun (Uttarakhand)
UKPCS-UKPSC/UPPCS coaching in Dehradun (Uttarakhand)
Current Affairs classes in Dehradun (Uttarakhand)
For getting detailed feedback on your answers and improve answer writing
Phone Number:–9997453844
Telegram channel : click here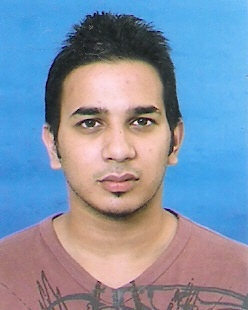 Latest posts by Hemant Bhatt
(see all)