Hi All,
This is a UPSC-IAS civil services exam guide for beginners,  which will also be helpful for state civil services exams (UPPCS, UKPCS and other state level exams.)
UPSC-IAS civil services exam guide for beginners
Eligibility:
Anyone with a university degree or equivalent can apply for the civil services examination. There is no minimum mark restriction.
Age limit: 21 to 32 years on August 1 of the year of notification. A candidate can appear in the examination six times.
The upper-age limit can be relaxed in eligible cases.

Upper age limit relaxation

Non creamy OBC: 35 years and 9 attempts
SC/ST: 37 years, unlimited attempts
Stages of Exam: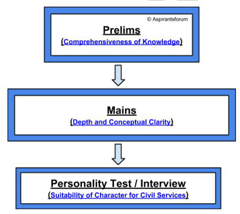 Stage1- Prelims
Multiple choice Question (MCQ) Test.
Two papers:

General Studies
Aptitude – Qualifying (33%)

Question paper is set in English and Hindi
Only General Studies marks are counted. 1/3 negative marking for wrong attempt.
If you apply online but remain absent in prelims then the attempt is not counted.
You should score at least 25 per cent marks in each of these papers to be qualified for the Mains.
Stage2- Mains
When you clear prelims, you'll have to fill up a new separate (online) form called "Detailed Application form" (DAF).
In this online DAF-form, your optional subject will be pre-selected from prelim form, hence you can't change.
Along with DAF-you'll have to give proof of graduation, caste, PH.
Mains contains Nine Descriptive Papers; including one optional subject(two papers.)
Two papers of these nine are of language: one for English and another for an Indian language of your choice. It is mandatory to qualify these papers but marks are not counted for final merit list.
The core of the civil services examination lies in the remaining seven papers, each with 250 marks. The remaining seven papers are:
Paper – I: Essay
Paper – II: General Studies I (Indian heritage and culture, history and geography of the world and society).
Paper – III: General Studies –II (Governance, Constitution, polity, social justice and international relations).
Paper – IV: General Studies III (Technology, economic development, biodiversity, environment, security and disaster management).
Paper – V: General Studies IV (Ethics, integrity and aptitude).
Paper – VI: Optional Subject – Paper 1.
Paper – VII: Optional Subject – Paper 2.
For papers VI and VII, you may choose one optional subject from a list of 48 (25 subjects and literature of 23 languages).
Stage3- Interview/Personality Test
Those who clear Main exam get to appear for Interview
Is held at New Delhi and taken by various boards headed by members and Chairman of UPSC.
It is of 275 marks.
The total marks scored Stage 2 and the marks in the Stage 3(personality test of 275 marks) put together decide the rank in the exam.
State Civil Services (PCS Exam)
Stages of Exam: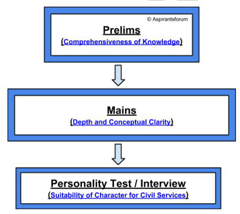 State Civil Exams of all the states follow the same process and procedure.
Some part of the syllabus may vary but most of the syllabus is same. Thus reference material is also the same.
The only difference is the state specific questions that are different for each state.
Generally there is no limit on the number of attempts and maximum age limit is 40 years with relaxation for different categories.
How to start:
For beginners:
STEP 1
Read NCERTs class 6th to 10th – History+ Geography+ Civics(political science)+ Environment
One newspaper: IE or the Hindu(English)
OR
One monthly magazine Eg PD or Chronicle
Try to make your own notes
Have a schedule with fixed time table and target. One day for revision in a week.
How to check your progress: By attempting mocks/quizzes
We have uploaded many quizzes at our website and we also provide UPSC level MCQs Daily (you might find it difficult at early stage of prep).
How to cover the syllabus? (after step 1)
STEP 2
History

Ancient : NCERT class 11th RS Sharma
Medieval : NCERT (RS Sharma)
Modern: Bipan Chandra

Geography

NCERT- Class 11th and 12th including Human Geography
GC Leong

Polity

Laxmikanth
Government policy : IYB /CA notes
International bodies: CA/ wiki

Economics

NCERT (class 11th and 12th)

Science

NCERT (class 6thto 10nth)
Environment: Shankar IAS notes

Current Affairs
State specific questions

No need to fret/get scared
Just follow the state specific book egs For Uttarakhand – Winsar/Arihant
---
Contact us for:-
IAS coaching in Dehradun (Uttarakhand)
UKPCS/UPPCS/UPPSC Mains coaching in Dehradun (Uttarakhand)
Current Affairs classes in Dehradun (Uttarakhand)
For getting detailed feedback on your answers and improve answer writing
Phone Number:–9997453844