Hi Future Bureaucrat,
Today we will analyze the for Polity paper (paper 3) for 2012 and 2016. We would first discuss our methodology and basic assumptions. Thereafter, we would give our observation and recommendations.
---
UKPCS Polity Notes 
---
UKPCS Mains paper analysis
Methodology and assumptions:
We have divided the question paper under following heads:

Indian Polity (Laxmikant)
Good governance (GG)
Administrative system of Union/India (not state)
Government of India Schemes
Static International relationship (IR)
Uttarakhand (UK) specific
Current Affairs and Miss. (CA)


---
1,2,3,4,5,6: Static portion can be covered from traditional books and notes.
                                 7: Dynamic portion, regular reading of newspaper and critical analysis required.
---
There were certain questions that could fit into two heads
egs Untouchablity (Q39, 2012,16m), we have split the question into two:
Constitutional provision: Laxmikanth head
Efforts: schemes head
Many questions, particularly in 2016 paper, were put under CA head as they were not part of the static portion covered in traditiona
Examples:
Black Money(Q38, 2012, 16m)
Roll of media (Q35, 2016, 16m)
UNSC Seat India (Q25,2016, 5m)
Domestic violence (Q33, 2016, 16m)
National Health Policy2017 (Q38, 2016, 16m)
Black Money (Q38, 2012, 16m)
Observations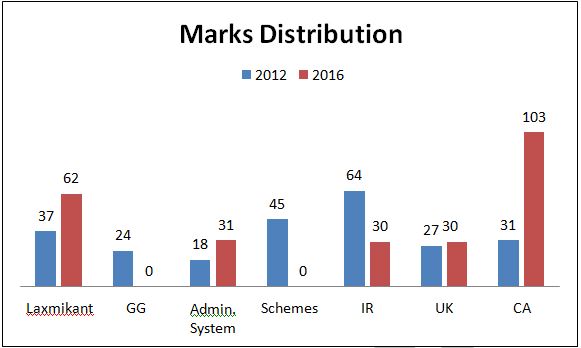 There is a distinct shift in the type of question being framed when we compare the two years. Even schemes that seem to be from static portion were current based Domestic Violence Act.
Two markers were straight forward. However, more of eight markers and sixteen markers questions are being asked that required analysis and deeper study.
Weight-age of questions asked from Lamikanth has
Some topics were also there like Role of Media, Public servants' civil rights etc. which are not commonly stressed by
The weight-age of IR seems to decrease but actually it has not decreased. Some IR questions were dynamic in
Example:
Relevance of NAM in 21st century (Q26, 2016, 16m)
UNSC seat (Q25, 2016, 5m)


---
Recommendations:
Current Affairs cannot be ignored and left for the last moment. Newspaper reading is must along with smart
Lamikanth is still the bible for polity. Aspirants should study it by There were many sitting ducks in 2, 5, 8 and most importantly in 16 markers.
Aspirants should make issue based notes Black money, Women issue etc. For a good rank, aspirants should regularly update their notes and REVISE them regularly.
The level of paper was pretty standard. It was a balance of easy, medium and difficult questions. In comparison to other papers relatively easier to attempt.
Answer writing practice is the key to complete the question
---
Contact us for:-
IAS coaching in Dehradun (Uttarakhand)
UKPCS-UKPSC/UPPCS Mains coaching in Dehradun (Uttarakhand)
Current Affairsclasses in Dehradun (Uttarakhand)
For getting detailed feedback on your answers and improve answer writing
Phone Number:–9997453844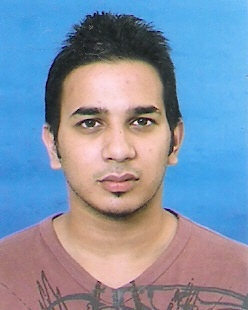 Latest posts by Hemant Bhatt
(see all)