UKPCS Mains Exam for Upper and Lower PCS is scheduled in the month of Jan 2023. Success in any civil services mains exam rests on two pillars : firstly, the breadth and depth of knowledge and secondly, the ability to present that knowledge within a cohesive framework. The answers have to written within the word limit, have to be well articulated and need to be cover the relevant issues with clarity. UKPCS Essay
The ability to write such answers requires constant practice and able guidance. Due to the peculiar format of UKPCS mains, aspirants need to know how to write the same question in 20, 50 or 125, 250 words! Clearly, not practising answer writing is one of the major reasons aspirants don't make it to the interviews.
Features of Essay Writing UKPCS:
Covers all the topics given Upper PCS Mains.
Provides updated facts, data and quotes for every topic.
More than 20 Essay topic along with sample essays  will be provided for:
Section A: Write an essay in any one of the topics in 500 words. (55 marks)
1- Social Structure, History, Culture and Art of Uttarakhand
2- Economic and Geographical Scenario and Environment of Uttarakhand
3- Literature of Uttarakhand
4- Women Empowerment in Uttarakhand: Challenges and Prospects
Section B: Write an essay in any one of the topics in 700 words. (75 marks)
1- Indian Economy and Polity System
2- Science and Technology
3- Disaster and Public Health Management
4- Current Event
5- Global Security, Human Rights and India
Features of Daily UKPCS Answer Writing Program at Oracle IAS
Oracle IAS has been at the forefront to make the whole UKPCS journey easier and reliable.
How the Daily UKPCS Answer Writing Program will be conducted?
Topics from different subject for revision will be posted on the our Whatsapp/Telegram group.
Next Day questions from the topic will be uploaded on the LMS.
Model Answer will be uploaded thereafter.
Candidates have to self evaluate there answers.
In total you will have 100+ days of answer writing practice with specific types of questions and answers.
User id and password will be provided to each candidate.
Repository of all the questions and answers + Sample Essays will be available from Day 1.
Fees/Cost of the program:
100+ days Answer writing and Essay writing program. 
Only answer writing + Essay writing program – Rs 1599/-
(You will be able to access all the previous questions with model answers & Sample essays that have been published.)
WhatsApp 999 7453844 for enrollment. 
Sample: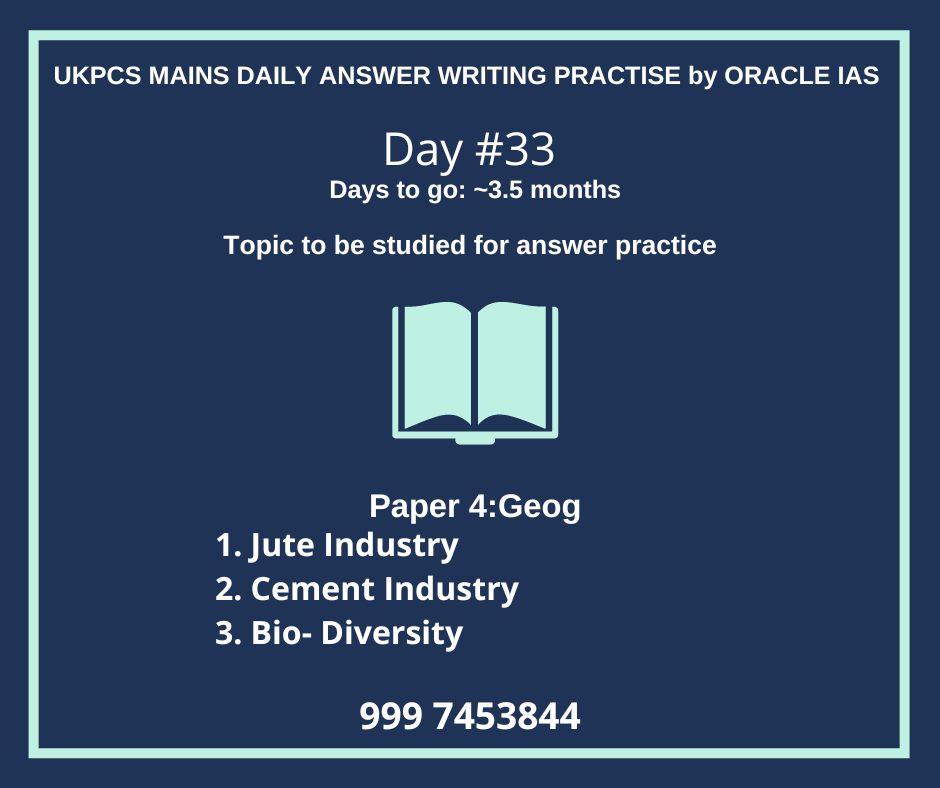 ---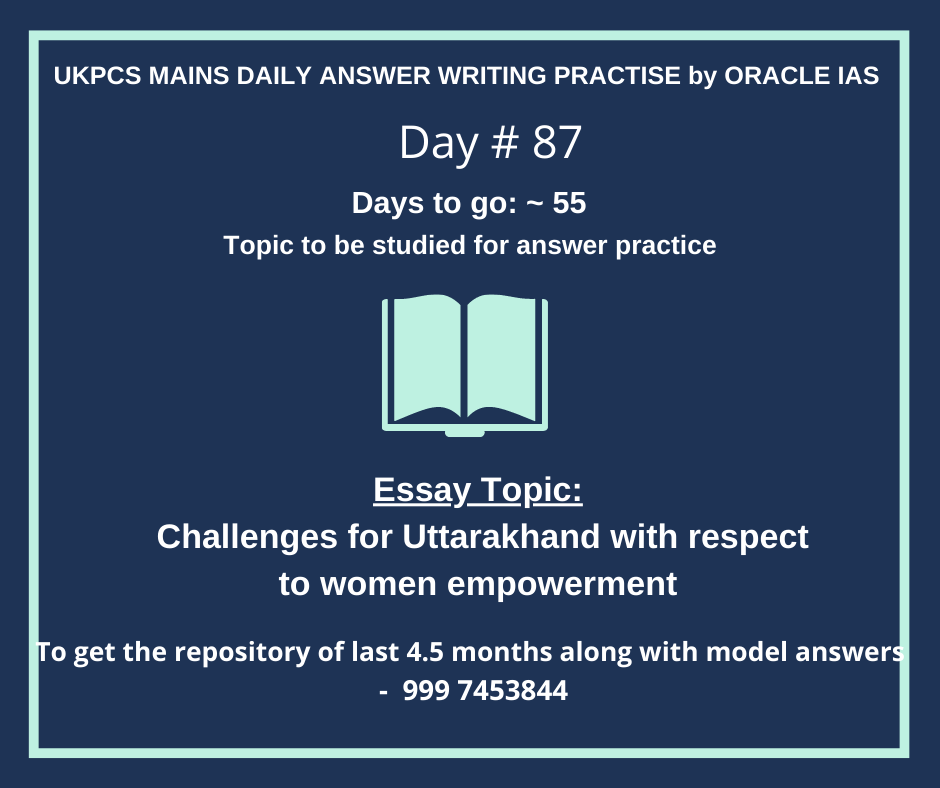 ---
UKPCS Sample Essay Booklet with Uttarakhand Facts:
Total 28 Essays: 15 Uttarakhand specific + 13 general Essays.
Uttarakhand Related Sample Essays (Word Limit 500)
Challenges for UK with respect to women empowerment
Problem of alcoholism in Uttarakhand
MIGRATION: Problem and Solution
Ecotourism in Uttarakhand .
Tourism: Sunshine industry of Uttarakhand
Folk culture of Uttarakhand
Folk Literature of Uttarakhsnd
Cultural importance of Devbhumi Uttarakhand
The importance of forest resources for the development of UK
Natural Disaters as barrier to development in Uttarakhand
Ganga: 'Aviral Dhara' and 'Nirmal Dhara' in UK
Contribution of Uttarakhand writers in development of Hindi literature
Changing scenario of Uttarakhand Economy
Landslides in Uttarakhand: Causes and remedy
Forest fires in Uttarakhand: Causes and remedy
General Topics Sample Essays (Word Limit 700)
4th Industrial Revolution
Digital sovereignty and national security
Technology and Environment: Interdependence and Consequences
Changing contours of Indian foreign policy
Corona pandemic: A lesson in public health management.
Worldwide impact of Ukraine war
Application of BlockChain
Global Food Crises and Solution
GST bill in India: Benefits and issues
Uniform Civil Code In India: Critical Analysis
Literature and society
Science: Boon or Bane
Social Media and Democracy.
Sample of Essay booklet:
Cost: Rs 299/- (including shipping)
Whatsapp 9997453844 for details.
---
---
Contact:
Call/WhatsApp 9997453844 for details
Join Our Prepartion program: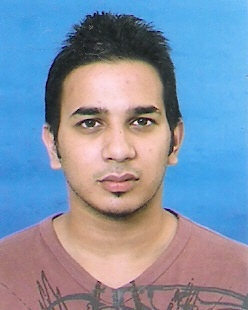 Latest posts by Hemant Bhatt
(see all)