Topic: NORTH EAST INDIA AND ASEAN
INTRODUCTION
NORTHEAST INDIA:
NORTHEAST INDIA has an estimated 45 million population and is surrounded by around 4500km of the International border with Bangladesh, Bhutan, China, Myanmar and Nepal.

2. The region possesses immense potential in India's relation with South Asian countries and organizations like ASEAN.

3. It is connected to the mainland India by a 22km wide link known as Siliguri corridor (chicken neck).

4. Northeast is considered as a GATEWAY for India to trade with Southeast Asian countries. The distinct geographic position, surrounding international border and proximity to the ASEAN (Association of Southeast Asian Nations) countries can help in transforming the northeastern region into an economic corridor connecting mainland India to the ASEAN countries.
ASEAN:
1.  ASEAN consist of 10 members from Southeast Asia which was set up to enhance the cooperation among the member countries in the fields of trade, culture, education, healthcare, economy etc.
2. India is a major partner of ASEAN. India actively engages in East Asia Summit and ASEAN Dialogue Forum to enhance trade and cooperation with ASEAN countries.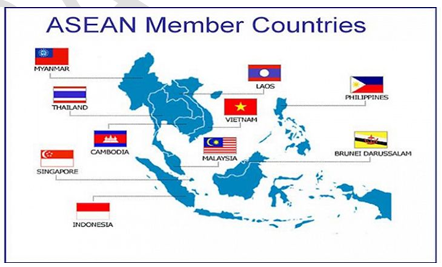 NORTH EAST INDIA AND ASEAN:
Northeast India can be a pivot in increasing the engagement with ASEAN.
1. The strategic position of the northeast is an advantage for the region to become a key player in India's Act East Policy by partnering with ASEAN countries.
2. Northeastern region is endowed with abundant untapped natural resources especially several rare minerals like dolomite, sillimanite, carborundum etc.
3. It has a huge potential for generating low carbon form of energy like hydro-electricity.
4. The region has huge potential for industrial development.
5. The northeast region can facilitate trade and cooperation in groupings like BBIN, BIMSTEC, BCIM etc.
5. Kaladan Multi-modal transit transport project, India-Myanmar-Thailand trilateral highway etc. can help in increasing Trade and cooperation with ASEAN countries.
6. Tourism is an untapped field in the Northeastern region. Together with ASEAN countries, tourism can accelerate economic development of the region. This cooperation can enhance the INDIA-ASEAN relation and strengthen the cultural ties between the countries.
Role of Northeast in India's Act East policy:
Act east policy envisages better cooperation and engagement with ASEAN and countries in ASIA-PACIFIC. Northeastern region, with its proximity to the eastern countries, can have better exchange and cooperation in health, education, human resources etc.
Challenges in development of North East
1.Security is one of the most critical problems for facilitating trade and development. The secessionist tendencies, sub-ethnic conflicts and consequent militancy by organizations like NSCN-K, NSCN-M in Nagaland, Garo liberation army in Meghalaya etc are dampening the development of the northeastern region.
AFSPA is enforced in Assam, Meghalaya, Arunachal Pradesh, Mizoram, Nagaland, Manipur, which is not conducive to the business.
2. Connectivity: Majority of the states and cities are not well connected in the region causing problems in free movement of goods and services. Also, developmental works are delayed due to this connectivity problem. Road transport is expensive and difficult to construct, Railway line density is low. Though Inland water transport has immense potential, it is also not developed.
3. Lack of Physical Infrastructure: Economic and Social development of northeast, underuse of its trade potential is due to lack of infrastructure.
4. Land acquisition: Delay in the acquisition of land due to lack of proper dialogue and consensus between the stakeholders is stalling many projects.
5. Environmental concerns: It is difficult to obtain permission from the environmental ministry for developmental projects as the region is an important biodiversity hotspot
6. Lack of Adequate Power Supply
China factor:
1. Northeast India has a Geopolitical significance. Development of the region is significant considering the constant threat from China to the Arunachal Pradesh and the recent Dokalam issue.
2. China is already ahead of India in connecting with ASEAN. For eg: Border province of Yunnan is well connected with Myanmar. This gives China advantage in trade relation with ASEAN.
India needs to develop the northeast region on similar lines to forge a deep relation with ASEAN.
Suggestions:
1. A significant policy should be formulated by the government to invest in capacity building, health, education, human resources to equip Northeast India for a better relationship with ASEAN countries.
2. Faster implementation of Connectivity projects such as India–Myanmar–Thailand Trilateral Highway (IMT).
3. Recently the government signed peace accord with the Nagaland militants. There is a need for such confidence-building measures to reduce the gap between administrators and civilians.
3 Need more focus and cooperation of ASEAN-INDIA business council for better interaction between the business communities.
4. More people-to-people contact through cooperation in sports, culture etc.
5. Creation of Northeast Tourism Development Corporation in coordination with the ASEAN Countries to standardize the tourism development in India and the ASEAN countries.
6. The Refining capability of petroleum products in northeast India can be effectively used by importing crude from ASEAN countries like Myanmar which is rich in petroleum and gas reserves.
7.  Border trades like BORDER HAATS should be encouraged to increase people-to-people interactions and trade.
Conclusion:
North East region of India is significant to enhance India's interaction and cooperation with the ASEAN countries. This can be realized only if the flaws and caveats in the implementation of projects in the region are removed. A joint effort by the government at all level, use of high-end technology and people's active participation can enhance the status of the northeast, turning it into a development hub. This can enhance the trade and cooperation with the ASEAN thereby promoting India's Act east policy.
 KALADAN MULTIMODAL PROJECT

IMT Highway Project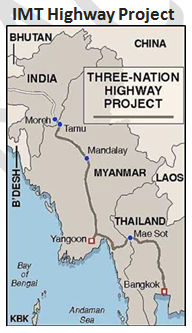 Food for thought:
State the reasons for continuing militancy in Northeast India.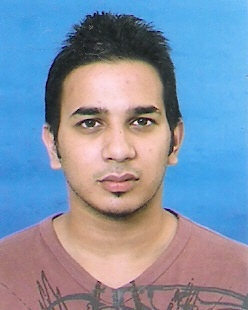 Latest posts by Hemant Bhatt
(see all)