Oracle IAS, the best coaching institute for UPSC/IAS/PCS preparation in Dehradun brings to you daily answer writing practice.
What is CBDR-RC? ? What is India's stand at UNFCCC and the commitment made under the Paris climate deal (COP-21)?
Why in news?
India's stand in the COP-24
 Paris climate agreement was 'non-negotiable' and there could be no compromise on the basic principles such as equity and Common but Differentiated Responsibilities and Respective Capabilities (CBDR-RC).
India against diluting CBDR-RC
The statement came amid a move by the developed countries, led by the US and the EU, to dilute CBDR-RC, a principle within the United Nations Framework Convention on Climate Change (UNFCCC) that acknowledges the different capabilities and differing responsibilities of individual countries in addressing climate change.
India and the other developing countries strongly resisted their move, citing the historical responsibility of the developed nations in emitting carbon dioxide, contributing to global warming.
India for reducing global warming
India welcomed the recent IPCC Special Report, which says human activities are estimated to have caused approximately one degree Celsius of global warming above the pre-industrial levels and is currently increasing at 0.2 degree Celsius per decade.
Earlier, India, along with three other nations, had said the UN scientific report should be taken into account in the climate negotiations.
The BASIC group of nations comprising Brazil, South Africa, India and China had made its stand clear on the UN report on limiting global warming to 1.5 degrees Celsius above the pre-industrial levels at a joint-press conference held on the sidelines of the UN climate talks.
"The vulnerable populations are the worst hit by extreme weather events due to a lack of resources to cope with them. The report enjoins upon us to collectively address the issues of climate change with the urgency that it deserves," India said, days after the UN scientific report was blocked by countries, including the US, Saudi Arabia, Russia and Kuwait, at the ongoing climate conference.
India's Intended Nationally Determined Contribution (INDC)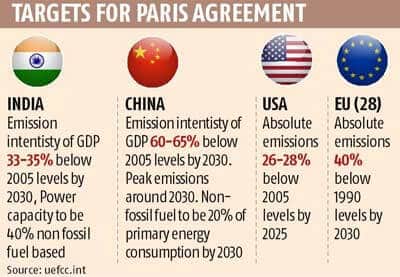 India's INDC include a reduction in the emissions intensity of its GDP by 33 to 35 per cent by 2030 from 2005 level.
India has also pledged to create an additional carbon sink of 2.5 to 3 billion tonnes of CO2equivalent through additional forest and tree cover by 2030.
India will anchor a global solar alliance, INSPA (International Agency for Solar Policy & Application), of all countries located in between Tropic of Cancer and Tropic of Capricorn.
Contact us for:-
•IAS coaching in Dehradun
•UKPCS/UPPCS coaching in Dehradun
•Current Affairs classes in Dehradun
•For getting detailed feedback on your answers and improve answer writing
•Phone Number:- 9997453844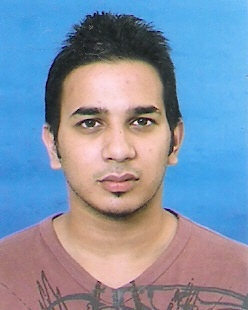 Latest posts by Hemant Bhatt
(see all)